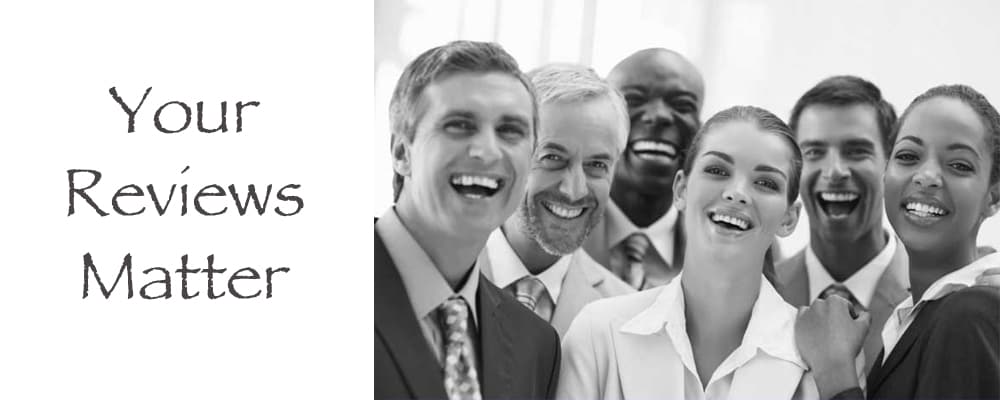 ---
Reason For Visit
Sales (New)
"Excellent Service The best if I may say"
After coming to this dealer on Sunday looking for a car. Juan Pena who took care of me right from the door gave me the best service I could ever ask for. Very professional and effitient staff. They are definetly one of the best dealers in the state. I am extremely please with the help Juan Pena and Erik from the financial office he is amazing they both provided me execellent service. Excellent sales representative. Love My 2015 Honda!!!!!!!
Reason For Visit
Sales (New)
"Great Customer Service "
My husband and I bought a new car over the weekend. Mr. Rigo Mendoza was a great help. He was friendly and very knowledgable. He had an answer for every question. I feel like he went above and beyond for us. He even made sure my car was washed when I came to pick it up. He showed me how to work all the new gadgets in the car with much patients. I definitely recommend him.




---


Good Experience
By MARC HERNANDEZ from BAYSIDE NEW YORK | January 26, 2015

I want to say thank you**** LUCIA MARTINEZ for your help. She was excellent.
Friendly at all time, always smilling, and the most important for me which
was the attention she put when asked her any question about the car..I
strongly recommend this Lady if you want to purchase a vehicle leave happy,
have a great moment and with the best deal ever..Great customer service and
affordable prices and payments.

Rating from MARC HERNANDEZ

Overall: 5
Customer Service: 5 out of 5
Buying Process: 5 out of 5
Quality of Repair: 5 out of 5
Overall Facilities: 5 out of 5
EXCELLENT SERVICE
By melissa mora from north bergen new jersey 07047 | January 8, 2015

I have a great experience with the dealer , all people are friendly and they
take the time for help you. I strong recommend.

Rating from melissa mora

Cars.com

Overall: 5
Customer Service: 5 out of 5
Buying Process: 5 out of 5
Quality of Repair: 5 out of 5
Overall Facilities: 5 out of 5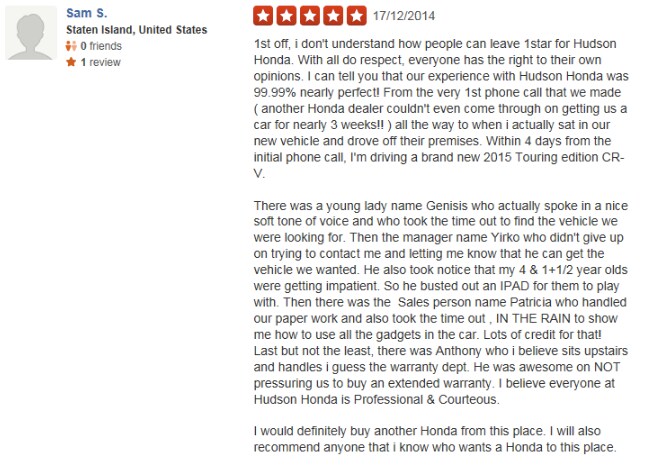 PAUL D -
My experience at Hudson Honda was very pleasant. My sales representative, John Colarte was extremely personable, knowledgeable, and honest. Purchasing/leasing a car can be an overwhelming experience, however the three qualities John possessed make up the character of a trustworthy salesmen and created a calm and informative sales experience. I am very happy with my new 2012 Honda Civic Coup and I have John and Hudson Honda to thank for it.
MR. LOPEZ
Yo y mi espose estuvimos recientemente at Honda y compramos el Pilot 2012. Estamos muy contento con nuestra experiencia en general que tuvimos cuando visitamos Honda. Lenny Willis, Willies Richie y AL Rico, trabajaron muy duro para nosotros para conseguir el mejor deal que podían darnos. Fuimos honestos con ellos y ellos fueron honestos con nosotros, así que pudimos conseguir una buena oferta para ambas partes. Muy buena gente. El caballero que manaja las finanzas fue genial con nosotros también - no recuerdo su nombre. Todos ellos fueron muy profesionales. Extremadamente contentos con ellos. 
DEALERRATER



luisthensant


6/30/2013 12:15:56 PM
I would like to say that John is by far the best salesman I have ever dealt with. he was not like other salesman that there only concern is selling them the most expensive car available. John listens to your needs and finds the best bang for your buck. I will definitely go back back to him for another car.

Thanks,
Luis


hlasserra
6/9/2013 10:13:54 AM

I lost my car and had no way to get to work. Went in to Honda with no expectations however this gentlemen John Colarte went above and beyond the call of duty to ensure I left the dealership with a car. He walked me through the processes (very knowledgeable) and made sure I was satisfied and taken care of the whole time I was there. I left with a Ford Fusion and have recommended him and the Honda Dealership highly. This is the place to shop for great cars and be provided with excellent customer service.
Heidi Lasserra
MABCNJ
6/6/2013 9:17:38 PM

Having shopped my business to approximately 8 Honda dealers for a new Accord, my first priority was PRICE! After negotiating with the various dealers, I leasesd a 2013 Accord EX-L from Hudson Honda. This is my 3rd new Accord since 2001, but it was my 1st time dealing with Hudson Honda. The staff at Hudson was very friendly and proffessional, but more important they were the most aggressively priced. I negotiated the deal directly with Hector the Sales Manager without stepping foot in their dealership until the day I picked up the vehicle. When I picked up the car I dealt with Marleny the salesperson (she knows the product well) and then Jason (explained everything in detail) proccessed my paperwork, I was out of there in short order! These 3 people made my experience very pleasant. The deal that was quoted to me was the deal I signed. The car was sitting there waiting for me when I arrived at the dealership, prepped and ready to go... No Drama! No last minute changes! Just a delivery of what was promised! Thanks for a pleasant experience!
elvine
5/29/2013 11:44:20 PM

John Colarte was awesome! I went in to refinance my 2009 honda civic that I was hoping I could've gotten rid of last year. And once John found out I didn't qualify to refinance, he worked his magic and put me in a brand new honda civic and actually paying LESS than what I was. John is a real straightforward salesperson that will tell you how it is and I felt completely comfortable with him. I would suggest anyone interested in buying a new/used car to go to him. He won't steer you wrong!
GOOGLE
Donna Harrison
reviewed a month ago
Quality
Excellent
Appeal
Excellent
Service
Excellent
The staff at Hudson Honda went above and beyond the call of duty to ensure I received fair and quality service. They took the time to make an accurate diagnosis of my problem and made me feel like a valued customer. I have been to other dealerships but Hudson Honda was the only one that made me feel right at home because of their neighborhood presence and friendly demeanor. I will continue to do business with them going forward.
RonCRV

1/28/2013 7:59:20 PM
We drove all the way from NYC to Hudson Honda to purchase two (2) 2013 Honda CRV EX AWD. They were able to match the lowest price offered to us by other Honda dealers plus they have $300 gift card for every new car purchased/leased (We're still waiting for our gift cards through mail though) Mr. Erik Castro was our salesman. He's very approachable, friendly and accomodating. Jason De Jesus was very pleasant as well. Overall, we had a great buying experience and will recommend Hudson Honda to friends and family.
---